Where creativity goes to work
Turning ideas into powerful images
Raising awareness through engaging stories
Designing the Cambodian touch
Starting 10 years ago as a vocational animation and graphic design studio, we have nurtured our inspiration and experience to become in August 2016, The Phare Creative Studio.
Phare Creative Studio is working with a group of talented artists trained at the Visual & Applied Art School (VAAS).
With the ambition to reveal the Cambodians' creativity, we are developing our studio in the heart of our mother organization,  Phare Ponleu Selpak Association, in Battambang city.
Phare Ponleu Selpak, the power of arts for human development and social change.
Phare Ponleu Selpak Association (PPSA) or "The Brightness of the Arts" is a non-profit Cambodian association improving the lives of children, young adults, and their families since 1994. With educational programs, a Visual and Applied Arts School, a Performing Arts School and social support, Phare Ponleu Selpak seeks to provide education, access to the arts, vocational training, and professional pathways to children and young adults. In 2013, with the aim of financial self-sufficiency, PPSA created Phare Performing Social Enterprise (PPSE). Under the umbrella of PSSE are : Phare Creative Studio but also Phare, The Cambodian Circus and Phare Productions International.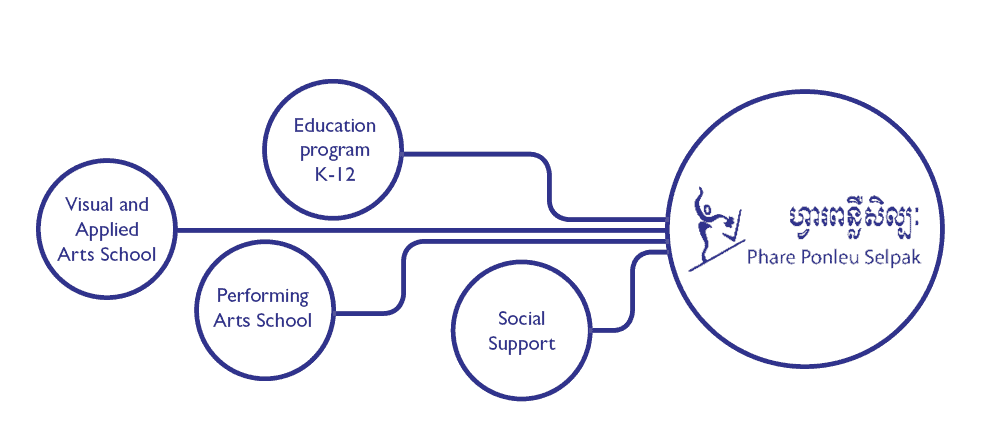 Phare Performing Social Enterprise (PPSE), transforming the lives of at-risk Cambodian youth through gainful employment in the arts.
Phare Performing Social Enterprise is an award winning and pioneering Cambodian social business. PPSE is a for-profit company, but the profit goes towards social benefit. Revenue generated supports Phare Ponleu Selpak non-profit school, which provides free education and social support to 1200 students and their families daily. PPSE strives to reduce poverty through training & employment in the creative industry. PPSE creates, produces and disseminates live performances, graphic designs, animation and other cultural products in Cambodia and abroad. PPSE artists come from difficult social and economic backgrounds and trained at Phare Ponleu Selpak non-profit school, established in 1994. PPSE believes creativity contributes to social development and a vibrant economy. It creates high-quality jobs, secures tourism benefits for the local population, strengthens the Cambodian cultural identity and improves access to education for at-risk youth.